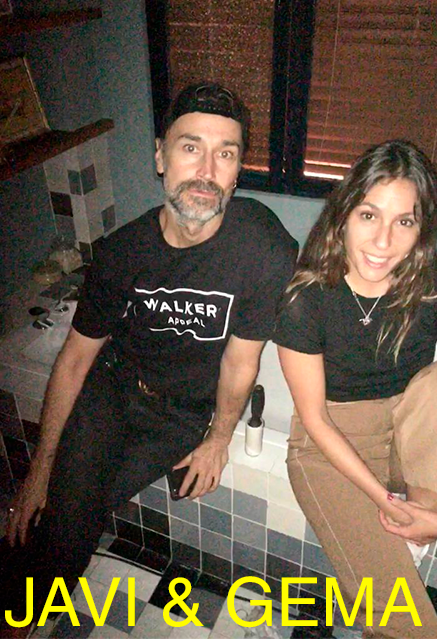 When did your fashion career start? And Walkers, how did you decide you wanted to create a fashion brand?
Although we started our careers separately, we met in 2007 and decided to work as a creative duo. The beginning of Walkers in 2016 was quite an organic process; the opportunity came unexpectedly. We felt it was the right time, and here we are, nearly seven years later.
What was at the top of your bucket list when you started developing the idea of creating a new fashion brand?
At the time, we felt that the Spanish market lacked a premium menswear brand made in Spain that cared about creating a product that was ethical, away from passing trends, and that used quality fabrics, offering pieces that would last a lifetime. But, as creatives, we also wanted to bring forward a brand that allowed men to feel comfortable and stylish without compromising their unique personal styles.
After all your years as creative consultants and stylists, which lessons learned have you brought to Walkers?
Being versatile and flexible are two primary skills a stylist needs to survive; they have proven invaluable when starting a brand from scratch. We have developed a very critical eye on fashion and its trends. Knowing the public and what works are two of the most important things to keep a critical approach to your brand to maintain it relevant and desirable. We try to look at our brand from a more detached perspective as if it was our client. This objectivity and awareness of the fashion ecosystem allow us to understand in which areas we can take the brand a step further every time. Our experience as stylists also enables us to understand and conceptualize each item of the collections independently and as part of a global narrative that serves a purpose within the brand. And our customer's wardrobe.
Could you talk to us about your primary sources of inspiration and style referents?
JAVI
I grew up in a working-class neighborhood on the outskirts of Madrid during the 80s, a vibrant cultural moment for the city and the whole country. I was that kid looking from the outside at this creative explosion happening everywhere. I knew I wanted to be part of that. Fashion during these years post-dictatorship was experiencing all this electric freedom of expression, so I knew I wanted to mix fashion and art. In terms of specific references, Halston himself was one of the main references of style; Eric Rohmer, pop and hip hop music icons, and their attitude are some of the things that I keep in mind when designing the Walkers person.
I was very fortunate that from a very early age, I was able to travel quite a lot, which widened my horizons and understanding of life. These 15 years in fashion have succeeded in training my eye, but they have also brought me back to celebrating my origins and the beauty of community and realness.
GEMA
As a human and a creative, I am pretty eclectic; I find inspiration in very random and different places. I feel very inspired by the raw energy and style of the various subcultures. My head spends a lot of time in the 70s; I love losing myself in Matha Cooper's New York images, full of music and art. I also enjoy Hugh Holland's portrayal of the skate world enormously. The feeling of freedom that he captures keeps me inspired when designing for the brand.
I am also very much in touch with the senses when it comes to inspiration; one of my passions is spending time in nature; the smells and textures are very present in my reference world. In cinema, I love those moves that capture the essence of their character through their wardrobe design, making the clothes that the character wears feel intrinsic to them, like the pink sweater in Paris Texas. It might sound strange, but for me, color not only lies in images; I love when a piece of music makes everything alive with color (check my Spotify playlist to see what I mean).
#
What are the most important things for you in terms of the brand?
We want it to be a live thing, a brand that serves a purpose, dresses a community, and retains the spirit of the first day. So we must keep nurturing it with an open mind perspective to allow it to develop into a brand that can continue evolving and adapting to the comings and goings of this crazy but beautiful world.